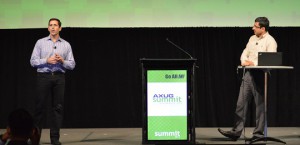 Microsoft has narrowed down its timeframe(时间表) for a Dynamics AX 7 release to the first quarter of calendar year 2016. That news comes from Dynamics AX general manager Dan Brown at a keynote(基调) presentation at AXUG Summit 2015 today.
AX 7 has been in preview since September, and general availability(可用性) in early 2016 will open it up for Azure-based deployments(调度). Six months later, Microsoft will provide the software for use in on-premise and hybrid(混合的)environments. At that time they will also add many more localizations(定位) and a data migration(迁移) toolkit(工具包). Upgrades will be supported from AX 2012 at that time and migrations from AX 2009.
AX 7's functional(功能的) scope(范围) will be on par with the upcoming AX 2012 R3 CU 10 release, which is due in December 2015. But AX 7 will also differ from 2012 R3 in a range of ways, as Microsoft has previously explained, including the new web-based user experience, Power BI integration(集成) and content pack, use of in-memory SQL Server capabilities(才能), and a "substantially(实质上) improved" integration platform.
But the cloud-focused efforts for AX are not limited to AX 7. Through Lifecycle Services (LCS) and Azure-based instances(实例) of AX 2012, Microsoft believes it has gained momentum(势头) in the cloud in the last year. There are more than 20,000 registered users for LCS working in 13,400 projects. And there are now more than 12,500 instances of Dynamics AX  running on Azure virtual(虚拟的)machine architectures(建筑学), from demo to dev/test to production.
Microsoft GM Sri Srinivasan told the AXUG Summit audience that his team is working on a new cloud-based Configuration and Data Manager for Dynamics AX. The new tool, currently in preview in LCS, has been designed to improve dataintegrity(完整) and support data governance(管理) while also streamlining(吝形化)many of the labor intensive(加强的) tasks in a migration like column mapping andsequencing(排序) of data loads. In the new tool, data packages are created based on collections of entities(实体) like customer groups, general ledger(总帐), or product information. The tool handles much of the detail around how they can be loaded accurately(精确地).
Microsoft is in the midst(当中) of planning various readiness(敏捷) activities for AX 7. They aim to have at least 70 Dynamics AX ISVs ready to deliver an AX 7compatible(兼容的) version of their offerings. And there are already several LCS Solutions in the Azure Marketplace that are available for AX 2012 R3 that will be updated for AX 7.
Finally, Srinivasan and Brown announced that there is a new AX Technical Conference planned for February 2016 that will include both functional and technical content.
转载请注明:ww12345678 的部落格 | AX Helper » [转]Microsoft Plans to Launch Dynamics AX 7 on Azure in Q1 2016