News coming up.. However was expected. Like we discussed in The Ever Green "Dynamics 365 for Finance and Operations", Microsoft has been focused on getting the ever green approach to F&O as well. And the introduction of One Version service updates is a necessary step towards that.
So what is One version service updates?
Almost 5 months back, Microsoft annouced that there will be a Change to the way MS will deliver Dynamics 365 updates, to ensure that all their customers will be on the
most current version, or at least the latest version possible.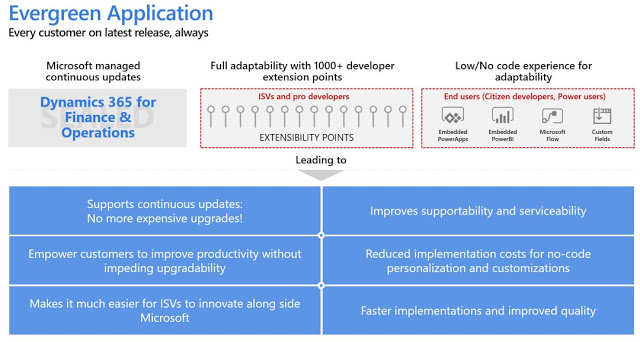 So below table illustrates the relavant information.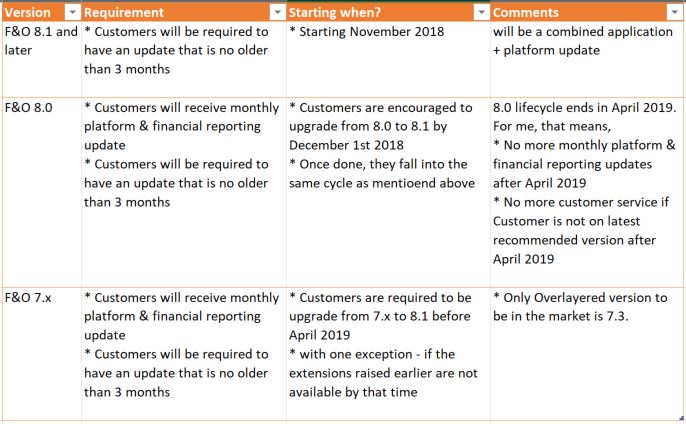 Also microsoft announced,

two online sessions in December

to share more information. Please go to Microsoft Managed Continuous Updates Recurring Sessions with the Product team | December 11, 13, 2018 and get registered to know more 😉
Some highlights from what Microsoft has shared on www so far: 
Next major release from what I understand is version 10.0 and will be released around April 2019
There will be 2 major updates per year going forward. One in April and one in October
There will be service updates rolled out each month

 starting in November 2018. And Customers are required to have an update no older than 3 months. 

So you could only skip two updates - however, ideally if you have followed the extension principles in your customization, nothing should STOP you from have the update every month

All the service updates will be backward compatible with the new experiences (changes in the system) as opt-in. So if you want the new experience you will have to configure accordingly
All the Breaking changes will have a 12-month lead time. This will enable the customers as well as the ISVs to include this in their sprint planning and validate
Especially for ISVs, there is a Partner early access progress, which allows early access to the platform update and thus enable them to validate and make necessary changes to their solutions
Some important information about how this will be done: 
Customers get to choose the date and time of the maintenance window in LCS for Microsoft to perform the update on their tier-2 (UAT) and PROD environments
Customers can also use the Tiles on the Environment details page in LCS to perofrm the necessary updates on their own. For example, one might want to do this on a sandbox environment
Expected down time is 30mins to 1 hour. However Microsoft will ask for 3 hours of downtime

All batch jobs will be suspended during the maintenance window and will be resumed after completion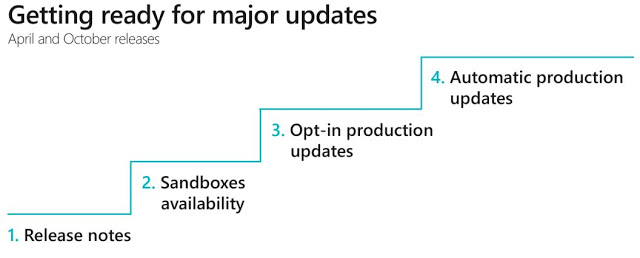 Finally some more updates for Retail: 
Retail service updates will include Dynamics 365 headquaters, Retail server and Cloud POS
Downtime is same as HQ, however, impact on channel operations can be reduced by using Modern POS Offline and Retail Store scale unit functionalities
Microsoft Support will demand that all instore components to be running on released software that is less than one year old
That means that backward compatibility for all self-hosted components will be provided for 12 months
Also the self-hosted components do not need to be updated at the same time
The new POS functionality coming in with new service updates will have to be appropriately enabled in the Screen layouts before they can be viewed by the stores. So this gives control over rollout
Also below is a proposed timeline regarding One version service updates. The indicated line shows that all applications under Dynamics 365 umbrella will be on v10.0 April update in Aprill 2019. And there onwards, it will be a continual phase.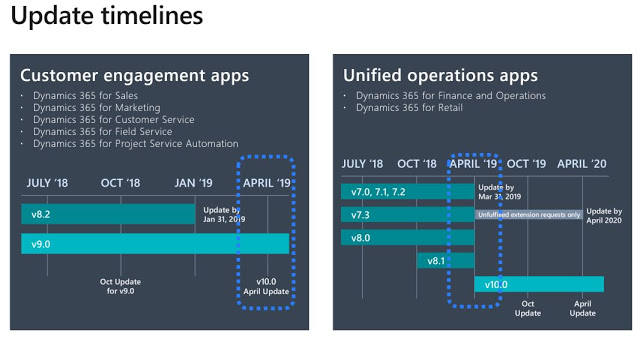 You can, of course, find more information in Microsoft Docs, here are some useful links: 
Hope this helps. Please do share your thoughts and also help me correct if you find any wrong information in here. Cheers!