Microsoft Dynamics AX 2015 (V7.0)微软内部的开发代号叫做"Rainier" 
目前逗漏出的零星改进如下:
基于云的解决方案 Cloud Based Solutions
平台无关性 – 在浏览器中运行的客户端 Platform independence – Browser enabled clients
与 Azure平台结合更加紧密 AD Federation and more integration with Azure
可能将开发环境完全迁移到Visual Studio 中 More investments on Visual Studio (Development Environment will be VS)
Application Development targetting any OS through Rainier
AX EP可能不在 Sharepoint上构建,Sharepoint 可能被放弃 No longer need to invest on Sharepoint hosting as Enterprise portal will be eliminated
三大主要变化:全新的客户端,云就绪,全新的开发方法 3 key pillars – New client, Cloud Readiness, New Development Stack
不再基于 RPC 通信方式  No RPC based communication (At least, now it's assured that the event logs won't get full by RPC errors which was the case with AX 2009)
仍然使用X++作为开发语言,但所有代码都会被编译为.net Programming language will still be X++ but everything will be .net compiled
Capability to expose updatable views using OData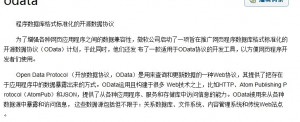 Web 客户端将基于HTML5构建,表现力和速度将获得重大提升 HTML 5 based Web Client so more faster and richer experience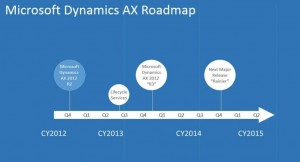 从图上看,今年年底微软还要发布 2012 R3,R3中可能包含如下更新:
 最新的消息称:R3的发布再次跳票到2014年4月份(2013-11-21)
IMPROVEMENTS IN WAREHOUSE MANAGEMENT
We're planning to release new Warehouse Management capabilities that will help our customers across industries to streamline distribution and warehouse operations including:
 Enhanced inventory control: includes various inventory control improvements through 360 inventory visibility, real-time cycle counting and replenishment.
Embedded radio frequency: provides real-time transaction processing through mobile devices including receiving, putting away, picking, staging and loading.
Improved warehouse operations: improves efficiency of inbound and outbound processes with flexible warehouse process support including ASN-receiving, advanced put-away rules, EDI-support, flexible picking strategies, and wave/load planning.
Rate, route and load planning: provides inbound and outbound planning, order consolidation, routing guides, constraints-based routing, load build capacity calculations, multi-mode planning, and methods to select a rate for specific loads based on the carrier's rate profile.
Freight reconciliation: allows you to match system generated freight bills with invoices received from carriers.
DEMAND PLANNING
The planned demand planning functionality supports basic SKU-level demand planning needs based on historic data. This functionality will be using the Time Series algorithm of Microsoft SQL Service Analysis Services in combination with Microsoft Excel to view, visualize, and edit the forecast data.
RETAIL
The investments in Retail capabilities is comprised of four areas: Mobility, eCommerce and Social, Industry Excellence, and Enterprise Manageability.
Mobility:
We are committed to provide immersive mobile experiences for retailers and their consumers virtually anywhere, anytime, on any device. Future investments address the retailer's needs to
enhance the shopping experience, and include the following:
A native and immersive Windows 8 (RT & Pro) Tablet Point of Sales (POS) and Mobile POS for Windows Phone 8, allowing retailers to provide differentiating customer facing in-store experiences.
Assisted Sales scenario: a rich clienteling experience with detailed customer information, product details and comparisons to help associates in-store personally engage with customers.
Other planned mobile scenarios include Unassisted Sales – with wish lists, product details, comparisons, and self-check-out – Inventory Management – including picking, receiving, stock counts, price checks, and labeling – Daily Operations – supporting punch-in/out, shift and drawer management, and Key Metrics and KPIs.
eCommerce and Social
eCommerce and Social is an important investment area for this planned release to provide retailers with an opportunity to offer consumers an omni-channel shopping experience. Planned enhancements include the following:
Loyalty programs across legal-entities and tiering of customers as well as enhanced gift card support.
eCommerce investments include customer-specific pricing, wish lists, and integration with 3rd Party Marketplaces. In addition to the electronics web-store, we plan to include a pre-defined web-store for fashion retailers.
Campaigns utilizing Facebook and Twitter.
Multi-Language and multi-Storefront support.
Industry Excellence:
Enrichments of specific retail scenarios include pricing and promotions, assortment and catalog, BI and reporting, and seasonality and markdowns enhancements. Kitting is planned to be introduced in next release.
Enterprise Manageability:
In order to support deployments in enterprise organizations we plan to introduce the following support:
Setup and upgrade of retail stores per store in order to phase and align deployment with business requirements.
Large scale deployment using Microsoft System Center Configuration Manager.
Monitoring and Diagnostics using System Center Operations Management.
E-PROCUREMENT
We will continue to invest in procurement areas to enhance functionality to support the purchasing of complex organizations and public sector organizations. These new capabilities will benefit purchasing managers and buyers by improving operational efficiencies. Enhancements for e-procurement include:
Improve management of Request for Information (RFIs), Request for Proposal (RFPs) and Request for Quote (RFQ) from solicitation to award;
Provide better control on response types to include sealed, open, and reverse auction type bids; ability to define groups of items or all items in the request;
Improve decision making by the purchasing entity by defining evaluation criteria and scoring upfront;
Support publishing addendums and questionnaires in addition to item/service requirement;
Improved vendor portal experience to view and respond to open RFXs;
Allow vendors or government contractors to propose substitutes or no bid; and
Provide vendors or government contractors visibility into the status and results of a solicitation.
BUDGET PLANNING
Similar to e-procurement, we will continue to invest in budget planning areas to enhance functionality to support the planning needs of complex organizations and public sector organizations. These new capabilities will directly benefit financial and budget directors, enhancements for budget planning include:
Enable budget allocation based on allocation basis rules;
Enhance ability to budget by summary/total dimensions;
Improve process flexibility and control by default and locked dimension values on certain type of budget plans;
Position cost using effective dates or the start of benefits;
Evaluate different scenarios for what-if analysis;
Enhance management and oversight, lock certain lines such as position costs in a budget plan; and
Enable HR position budgeting functionality into budget planning.
转载请注明:ww12345678 的部落格 | AX Helper » 关于Microsoft Dynamics AX 2012 R3 和 2015